Woodland Park, the first master plan community approved in Port Moody since 2004, continues to move forward, but will now do so under a new name: Portwood.
The master plan by Vancouver-based Edgar Development was first introduced to council in December 2019, brought to a public hearing in July 2021, and received final adoption in December 2021. A press release published Monday announced that sales on the first market residential component, Umbra, will be launching this week.
Located on 1190 Cecile Drive in Port Moody, due east of Simon Fraser University's Burnaby campus and a short four-minute drive away from the Millennium Line SkyTrain's Burquitlam Station, Umbra will include 219 units, split between a six-storey building with 172 condominiums (68 one-bedroom units and 104 two-bedroom units) and 47 two-storey, three-bedroom townhouses.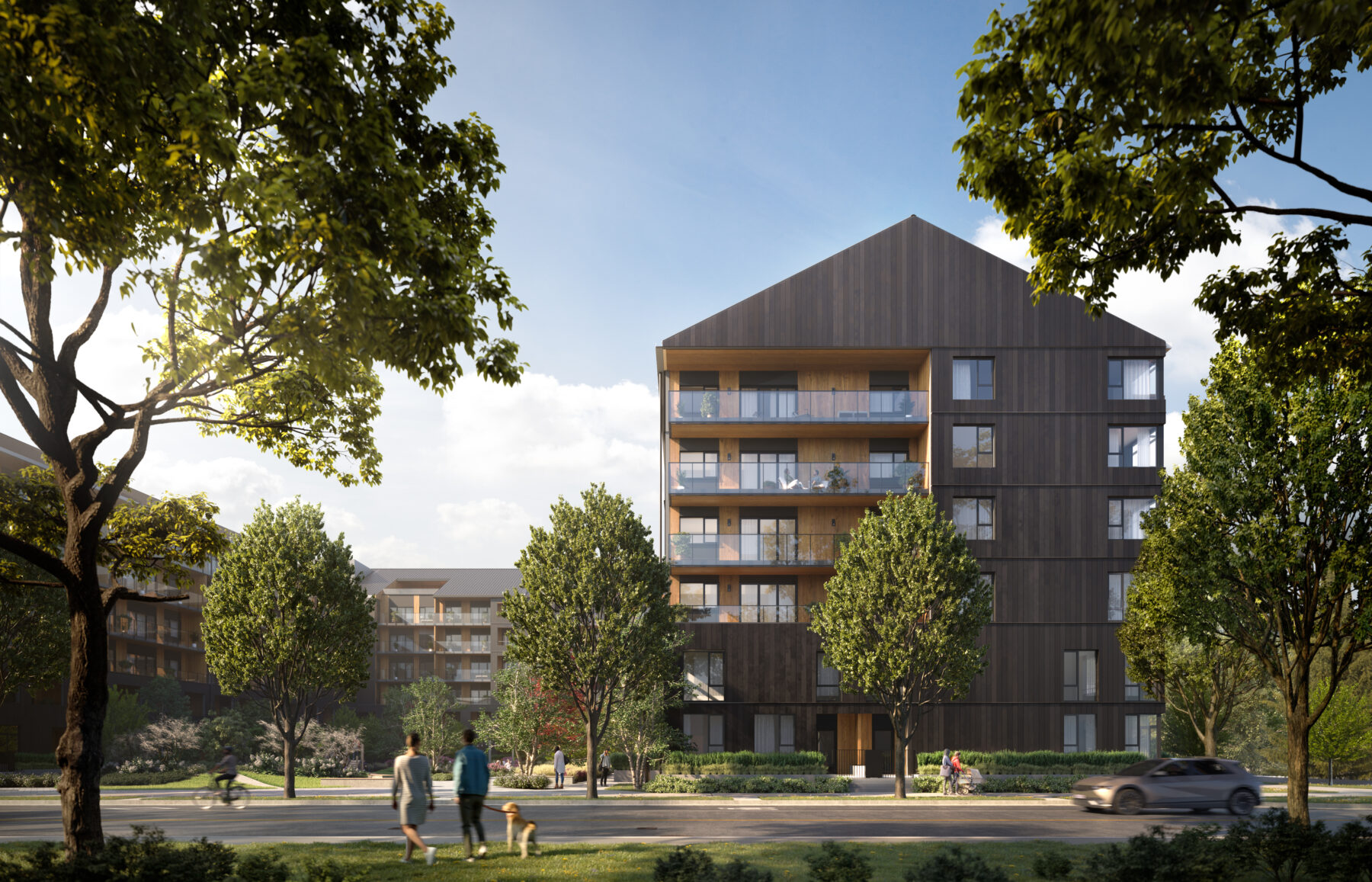 Portwood
Centered around 300 Angela Drive and 1142 Cecile Drive, Portwood will include upwards of 20 low-rise and mid-rise buildings across 23.7 acres, housing 2,053 units of housing, a childcare facility, a grocery store, and additional retail space.
That amount of density is being allowed thanks to a rezoning, as well as a density transfer of residential floor area from a site acquired by Edgar Development on Highview Place, about one block east of the Portwood site. The City says that part of the Highview Place property will be used for a road connection to Portwood, and that the remaining portion of the site will be provided to the City, which may be used for a new fire hall.
Of the 2,053 total units, 1,596 will be market strata units, 132 will be market rental units, and 325 will be below-market rental units, according to a City report from June 2021. Edgar Development has already secured $140M in funding from BC Housing for the below-market component, in exchange for providing five acres of land to BC Housing.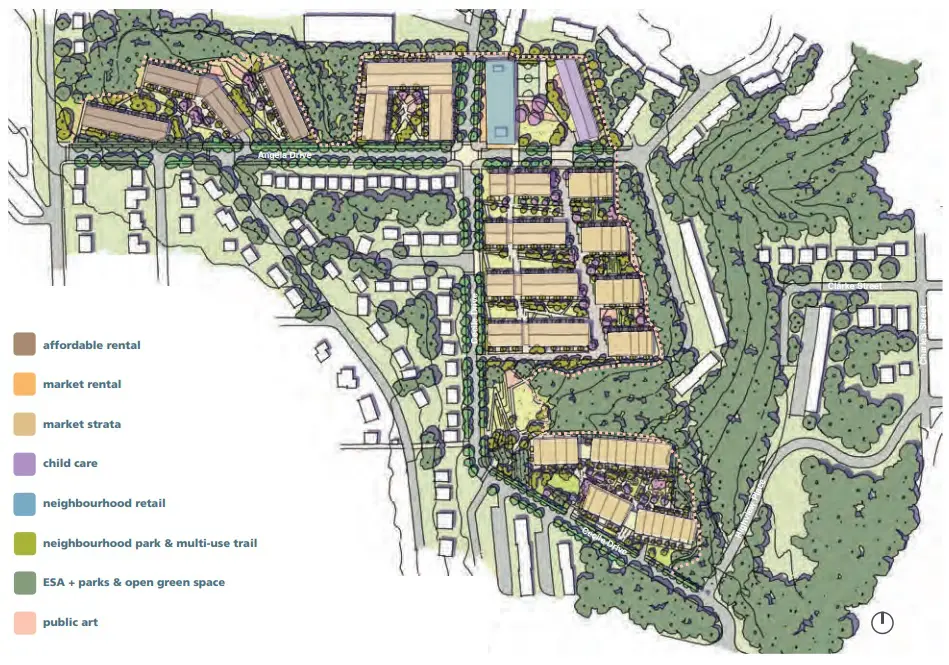 A significant portion of the 23.7-acre Portwood community will also be dedicated to public green space. According to the City, approximately 8.3 acres will be open green space, 5.2 acres will be Environmentally Sensitive Areas that will be protected and enhanced, and 2.9 acres will make up a trail network that runs through the site and two new parks.
Those two new parks will be Hub Park, located on the northeast corner of the site, and Cecile Bend Park, along the southern portion of Cecile Drive. According to City estimations, approximately 70% of the site will consist of green space.
Portwood is being delivered through five phases, generally moving clockwise across the site. Phase One will consist of just the affordable housing component, which BC Housing is developing on the aforementioned land being provided by Edgar Development. Construction on Phase One is expected to begin this summer.
Similar to the City of Burnaby, the City of Port Moody also has a Tenant Relocation Assistance Policy to minimize the effects of renter displacement. In accordance with that policy, tenants displaced by the development of Portwood will be relocated to buildings in the eastern side of the Portwood site. Once the buildings redeveloped by BC Housing are complete, those tenants will then have the right of first refusal to move into the new building, with those who opt to leave eligible for compensation.
Build-out of the Portwood project will be guided be individual development permits for each of the phases. In October 2022, Council issued development permits for both Phase Two, which includes Umbra and portions of the green spaces promised, and Phase Three, which will include a six-storey market rental building, a five-storey commercial building, Hub Park, and more.
A February 2023 staff report reveals that Edgar Development requested a subdivision of Phase Two and Phase Three into separate legal parcels, "for financing reasons." The City says that subdivision would allow for either or both parcels to be sold, but indicated that Edgar has shown no intent to do so.
According to the City of Port Moody, full project build-out of Portwood is not expected until 2036.